As a watch that is used on many occasions in life, waterproofing is a basic requirement, but different scenarios have different requirements for the level of waterproofing. As a watch manufacturer, when we make watches, we also set different waterproof levels according to different watches to meet different needs. So, what is the waterproof rating of the watch?
There are 5 main types of watch water resistance

The waterproof standards of general watches are divided into 30 meters, 50 meters, 100 meters, 300 meters, and 500 meters. The waterproof depth does not refer to the depth in the water, but the pressure.

3ATM: 30 meters waterproof, ordinary life waterproof, water droplets splashed when washing hands, and raindrops falling when it rains. However, pay attention that the time should not be too long, and it should not be worn in the sauna room;

5ATM: 50 meters waterproof, enhanced lifestyle. Can be wiped with a small amount of cold water;

10ATM: 100 meters waterproof, you can wear the watch for car washing and showering activities, but not immersed in water;

30ATM: 300 meters waterproof, can be used for swimming activities, but only for shallow swimming. Do not interpret it as being in a 300-meter deep water area;

50ATM: 500 meters waterproof, diving sports. The depth of one or two hundred meters shall prevail, and it is not recommended to dive deeper.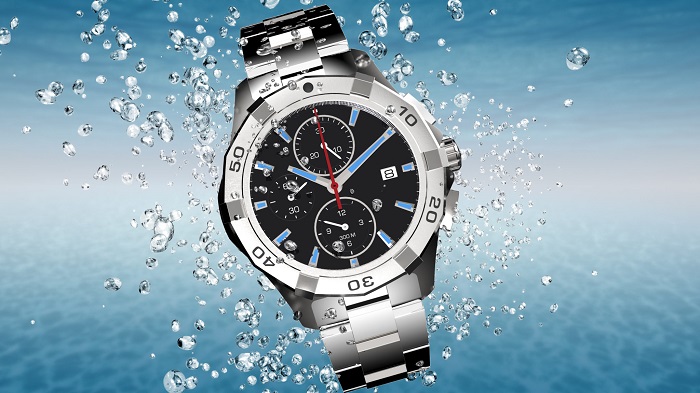 The waterproofness of the watch depends on the waterproof rubber ring on the mirror, back cover, and handle to reach the corresponding standard. All waterproof watches are marked with the English words "WATER RESISTANT" or "WATER PROOF" on the bottom cover. Watches without waterproof marks can only be dustproof and should avoid water.
Precautions for using the watch

1. Do not swim with a 30m watch;

2. Do not wear any watch in the bathroom, and do not wear any watch in the sauna;

3. The watch should be maintained every 3-4 years or so, and the waterproof test should be carried out;

4. If the watch enters the water, it should be dealt with in time, and it needs to be scrubbed and maintained at the watch maintenance agency. The watch should not be left in the water. If it is not repaired in time, the water will cause embroidery on the steel parts in the watch movement. Once the tiny watch parts are rusted, they usually need to be replaced. Except for the movement parts, long-term contact with water Gas can also discolor, blister, and rust the dial and hands of the watch.
The above is the introduction of the waterproof level of the watch. We are a watch manufacturer with more than ten years of watch production experience. If you need to buy a watch, please contact us.