Jul 12th, Vacheron Constantin Traditionnelle biography series of six new models, choose the brown dial with 18K 5N Pink Gold watch case. Stylish and tasteful in appearance,sophisticated workmanship and distinctive tabulation features, to interpret a wide variety of watch complex functions.
Circular stepped watch case,slim bezel and groove back cover, track type minute scale ring, "batons de Genève"Rod index scales and sword shaped hands: Traditionnelle's new series features a series of iconic features, 18K 5N pink gold luster and warm milk light ink and brown dial match, elegant Black Crocodile Leather Watch band perfect match.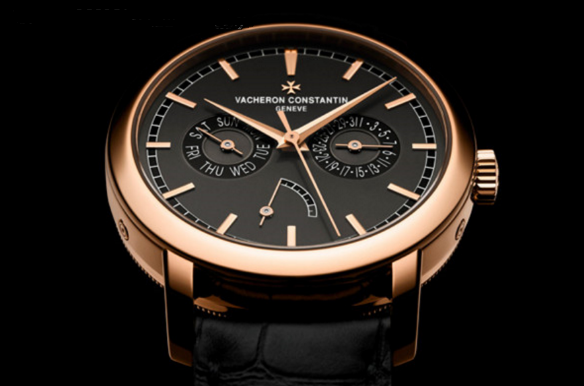 The new way to the contemporary outstanding Geneva traditional tabulation process, each new models are based on its own characteristics with their own R & D and manufacturing brand manual chain or chain automatic mechanical movement, the movement through manual fine grinding modification. From simple time to sophisticated features, the new series is a complete display of the charm of watchmaking, to Vacheron Constantin's nearly three centuries of accumulated watchmaking skills and aesthetic achievements.
Traditionnelle series of 2755 movement and Traditionnelle transmission series, 14 day Tourbillon
A large pink gold watch case with a diameter of 44 or 42 millimeters, the Traditionnelle series, the 2755 movement, and the Traditionnelle series, the 14 day tourbillon, two masterpieces, exhibit rare complex functions and technical achievements.
Traditionnelle Biography Series 2755 movement, advanced tabulation three big complex functions (namely tourbillon, calendar and with centripetal speed control device three ask time function) in one. Second equally sophisticated Traditionnelle passed a series of 14 day Tourbillon Tourbillon with Loudiao, the appearance of a cross (Malta Vacheron Constantin logo), the movement has four series of spring boxes, can provide up to 14 days of storage power. These extraordinary works are equipped with Vacheron Constantin's own research and development of manual chain mechanical movement, and show the advanced tabulation, traditional modification, grinding process.
Traditionnelle series of ultra-thin automatic chain movement, Traditionnelle transmission series, week calendar, power storage, Traditionnelle attack series, simple display - Manual uplink or automatic uplink.
The Traditionnelle attack series covers different styles from complex functions to simple elegance. Ink 18K 5N Pink Gold Brown Dial collocation of new products, through different collocation classic functions, show the latest series of works: the interpretation of the traditional Traditionnelle meter series ultra-thin automatic movement indicating the hours and minutes; Traditionnelle passed on Sunday with the central power storage series calendar date and week, second hand, power storage is shown;
Traditionnelle series of traditional simple display will add a 9 point small seconds and date display function. These three low-key exquisite watches are equipped with automatic chain mechanical movement, as well as sapphire crystal watch cover. One of them is equipped with Vacheron Constantin's own R & D and manufacture of ultra-thin 1120 movement, the movement consists of 144 parts, the thickness of only 2.45 mm. Finally, the series also launched a manual chain watch, the watch indicating the hours and minutes, small seconds at the 6 position with power reserve of about 3 days.